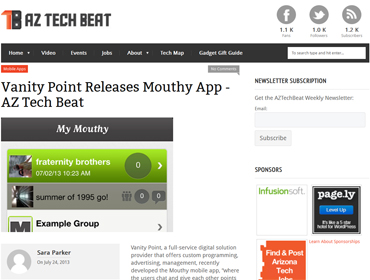 You've honed your product, you've perfected your service, now what? Time to put yourself in front of the consumer. Don't let PR and marketing overwhelm you. We're here to help. We will develop a calculated approach that is tailored to your needs.
The professionals at Vanity Point can help you stand out while keeping your message concise and consistent throughout the campaign. We'll craft press releases to hit your target audience at just the right time, with just the right message, enabling you to secure the best results for your public relations campaign.
Starting with proper research and measurable goals, our public relations teams can craft just the right PR plan and press releases for your business. Public relations is not about high volume, it's all about message and our campaigns cut through the everyday noise and get you noticed.
Vanity Point is happy to work with clients who like to handle PR on a project by project basis and offer affordable rates. Many small businesses and startups are surprised at just how affordable our rates are given the quality of our work and refer us to others on a regular basis. You don't need to be able to afford a big agency's monthly retainer to use quality PR to market your business.
Why choose Vanity Point for Public Relations
Small and medium sized businesses alike have raved about the quality services and affordable prices they have received from Vanity Point. Vanity Point's public relations, advertising and marketing team are happy to help your business on a project by project basis or with comprehensive public relations programs. Our savvy and creative approach to public relations and marketing has helped businesses with excellent PR results, exceeding their publicity goals.
Vanity Point offers an integrated approach to public relations focusing on cultivating not only fresh creative but delivering thoughtful media campaigns tailored to any business' needs. Our enthusiastic and skilled team has a passion for delivering press with a purpose, which directly impacts your bottom line.