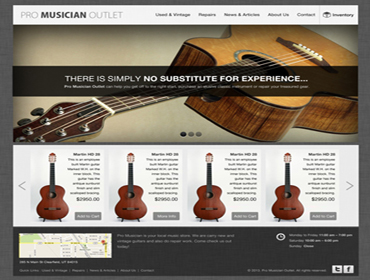 Our web design team is well known for having vastly improved the online presence of many businesses with our exceptionally high quality UX / UI design services and the knowledge to deliver just the right custom web design to match your needs. Our web site designers' years of experience and high level of skill can help you successfully carve a larger slice of the pie in your niche with a powerful and effective web identity. Our team of expert UX / UI designers, graphic artists and corporate identity designers have delivered outstanding design solutions to hundreds of businesses across a wide range of industries from all across the globe.
Make sure that you stay ahead of your competitors with a professional web site that is able to translate visits into prospects. In addition to web design services we have greatly skilled web developers that are experts with several web based coding languages such as PHP or .net, as well as with a variety of content management systems (such as Wordpress, Joomla or Drupal), eCommerce platforms (such as X-cart or Shopify), and payment gateway integration. Custom coding is our specialty and we are able to tailor solutions to your exact needs. Most of our web development is centered on custom coded larger projects such as social networks or e-commerce solutions but no web development project is too large or too small for us to handle.
Vanity Point's highly proficient PHP and .net website development teams are well versed in the PHP and .net development platforms. We fully understand the features of the PHP and .net programming languages and are able to create amazing websites that are cut above the rest. Our PHP and .net professionals are able to optimize web sites to give you vibrant, functional websites that allows you to reach out to a wide audience of potential clients and impress them. Our PHP and .net website development teams are able to execute exceptional work across a wide variety of projects and requirements.
We offer surprisingly affordable and highly effective web development solutions with either a custom programmed code or utilizing Open Source software platforms if you chose to go that direction. These solutions can help you effectively manage your business online in not only a powerful but in a cost effective manner that you might be familiar with already. Our web design and development team puts years of design and programming experience at your disposal and allows you to leverage our skill and knowledge for your benefit. Give us a call today at (480) 217-7391 for a FREE quote and find out why Vanity Point is the right team for your web site development needs.
Why Choose Vanity Point for Ecommerce Solutions
Our highly skilled UX / UI design team is able to design ecommerce sites that get results and keep customers coming back again and again. Additionally, we have expert web developers that are very knowledgeable and experienced with ecommerce website development solutions. This includes eCommerce platforms such as X-Cart, Shopify, and other platforms as your needs require. We offer top-notch design, development and promotion of Ecommerce websites. Our Ecommerce solutions are known for being creative, robust, powerful and effective.
With integrated shopping cart solutions and secure web payment gateways, our ecommerce web applications facilitate quicker and easier checkout and encourage repeat business. Our ecommerce software development and corresponding services conform to world-class QA assurance and utilize tight programming processes at every step of the development cycle.