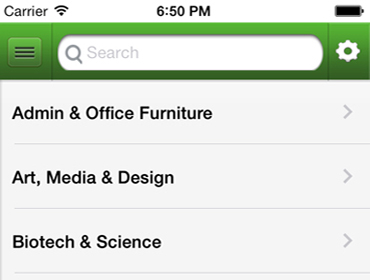 With the massive growth of the Android operating system, it is critical that you choose the right Android application development company with the right Android app development solutions for your needs. Vanity Point has several highly experienced and technically proficient Android app developers on our team to turn your ideas into reality at surprisingly affordable rates. Take advantage of the rapidly growing mobile market place to help grow your business with the fastest growing operating system on the market today. Android based smartphones are sold in massive numbers with hundreds of thousands of Android applications developed and available on Google Play. With impressive new Android smartphones being released all the time, the popularity of Android continues to grow and this OS cannot be ignored.
Vanity Point's capabilities and experience developing powerful android apps make us one of the leading android apps development companies across the globe. We have developed trailblazing and robust android apps used in several different industries for a variety of purposes, including business, education, productivity, government, travel, finance, entertainment, health and utilities to name a few. Keeping an eye on breakthrough technology we develop for the latest versions of the Android operating system. With Vanity Point you can rest assured you have made the right choice for you Android application development partner.
We provide cost effective android app development and our highly respected UI / UX app designers will help propel your app to success with highly effective interface design. Repeat usage of applications is highly dependent on the interface and our UX / UI developers are some of the best in the business. Additionally, Vanity Point's android developers are highly trained and experienced, allowing them to code your app with precision. Air-tight programming processes and top-notch QA help us deliver seamless apps at rates that will surprise you.
If you are interested in an Android app for your business but are not sure where to begin, feel free to give us a call at (480) 217-7391 and we can answer any questions you may have, walk you through the Android app development process or give you a FREE estimate on your project. Our years of application experience and expert knowledge can be leveraged for your benefit to help your business grow in the exciting new mobile age.
Why Choose Vanity Point for Android Apps Development
The Android apps we develop will provide you with a powerful edge over your competitors. We are Android application development experts. Our familiarity with this powerful mobile operating system allows us to convert your ideas into reality and deliver applications that exceed expectations. Highly functional, performance-driven apps are our hallmark and when you choose the Android software development professionals at Vanity Point you will be pleasantly surprised by our affordable rates. We are one of the leading Android app developers and have a highly dedicated team with expert level knowledge of designing and developing Android mobile apps.
Most of our development team has over 4 years of Android app development experience. Our developers are quite familiar with the supporting technologies that allow for integrated, powerful Android apps. Your app's user interface is one of the most important parts of your project and we employ world class UX / UI designers to turn your vision into a powerful user interface. Our project managers and team leaders ensure the highest efficiency and effectiveness from our development team. We take pride in creating value for clients like you, so contact us now and we will help you turn your vision into reality.