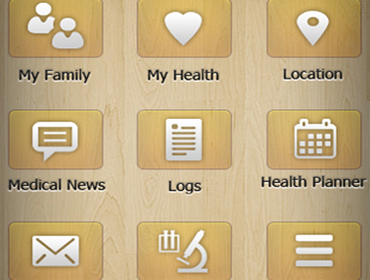 Vanity Point is one of the leading iPhone application developers in not only the Phoenix, Arizona metro area but across the globe. Our expert iPhone app development team understands the needs of high quality applications and provides the best iPhone app development solutions. We utilize integrated processes for developing, testing and distributing free, commercial and in-house usage iPhone applications to ensure a high level of quality. Vanity Point's iPhone application developers put a full set of expert iPhone application development resources at your disposal. Our client centric approach offers a fresh alternative in the software development industry that we are sure you will appreciate. On top of the quality that we offer we are sure you will be surprised at our surprisingly affordable rates.
Vanity Point's Team of experienced, expert iPhone application developers has created quality mobile app development solutions for several custom iPhone projects. Our iPhone apps development team is highly knowledgeable in many common areas of iPhone application development, such as: business applications, multi-media applications, entertainment apps, iPhone based web services, search applications, education applications, data intensive apps, social networking app development, messaging applications, travel application development, utility application development and more.
Apple often updates iOS and regularly releases new SDKs with new features. The iPhone apps developers at Vanity Point constantly keep track with latest iPhone development technology and programming tools. We utilize cutting edge processes and quality assurance techniques to ensure that each and every iPhone application that we develop is built to the same set of rigorous standards and that your app development project will not only meet but will exceed your expectations.
Our highly respected UI / UX design team creates effective user interfaces so that your app will entice users back again and again, transforming your idea into a very usable application that will generate results. Usability is one of the most important factors when it comes to the success of an app and our UX / UI is at the top of the game. Beyond having years of design experience, our UX / UI design team regularly participates in training, seminars and education to make sure that we are on top of the UX / UI design techniques and research.
Why Choose Vanity Point for iPhone Application Development
While there are many solid firms available for iPhone application development services, Vanity Point stands out as one most respected names in iPhone App development. We have years of experience and have developed several applications across a wide variety of industries. Our dedicated and experienced iPhone apps developers have been developing creative, customized, flexible and usable iPhone application software since the iPhone was first introduced. This allows you to take advantage of our years of experience. We provide cost-effective solutions for iPhone application development that less experienced firms cannot match. We stay on top of the latest trends and are constantly educating our passionate team in the latest technologies to better cater growing demands of our global clientele.
Vanity Point's specialized team of experienced iPhone applications developers is highly proficient at developing applications at surprisingly affordable rates. And unlike with some of the other firms, you will own the rights to your intellectual property. Vanity Point offers a secure development with high quality processes, thus allowing you to take maximum advantage of our client centric approach in a rich development environment.